I've spent most of my adult life in education of sorts, as foreign language teacher (middle and high school), career counselor (with undergrads, grad students, and alumni in higher ed), as a volunteer career counselor (non-profit organizations), and more recently as a fiber artist!
There are indeed very few original ideas in the arts, but that is the nature of the beast; art evolves as we build upon our own and others' ideas from meetings with other fiber artists, workshops, photos online, from nature, etc. I LOVE it when I know I have personally inspired someone to continue their education, to find a job or satisfying career, to change careers, or to create something wonderful and unique from their own head, heart, and fingers.
I've been selling on
Etsy
since 2006. With some success and a whole lot of hard work, I tried to build that business, finding that selling in my B & M gallery was far more gratifying. Women who like my designs really want to touch and try them on. At this point, I've only got two patterns in my Etsy shop and nothing else. From time to time, they sell, but most of the time I hear nothing from the buyers, although I always offer email advice and responses to any questions should they need it. Rarely does this happen!
The
Cachecol
is an original design, very freeform in nature, unstructured, and randomly knitted. I thought the word was French (meaning hide the neck), but actually it is simply a Portuguese word for scarf. In any event, it works beautifully to hide the neck, provide a little warmth without weight. It can be worn in many different ways.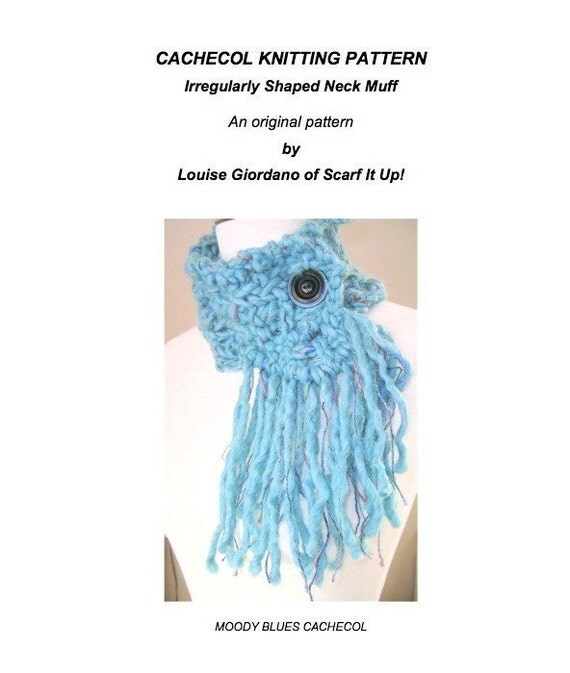 The second pattern, called the
Angel Scarflette
, is both knitted and crocheted. Included are directions for freeform crochet edging or a simple crocheted finish. It too can be worn a number of ways, depending on how you adjust the buttons - or not use buttons at all, as my most recent customer did. And she is the inspiration for this post.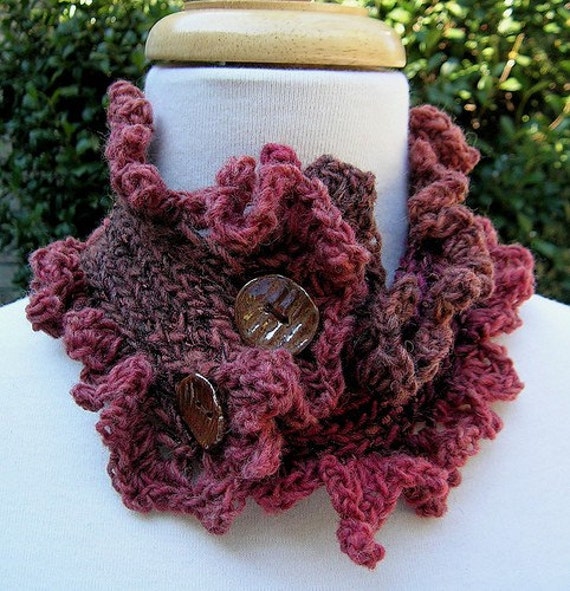 Kanani ordered this
pattern
about a week and a half ago. She and I have been in a running dialog ever since! Never have I had a customer so excited about one of my patterns. And she has created the most adorable scarflettes, omitting the buttons altogether, and using either a shawl pin or pin to attach the scarf around the neck. Here is some of that dialog:
"Just left you very positive feedback.
In addition, I made this amazing scarf in one day with left over yarn. Different sources with the following fiber contents: cotton, rayon, silk and acrylic. When I made the body (P1K1), the length stretched a little bit too much. So I ran three rows of ribbon lengthwise to slightly take up the excess.
I couldn't feel happier! Instead of buttons, I use various items to fasten the front.
This pattern is exactly what I have searched for. People LOVE hand knitted/crochet items. My friends will fight each other over this!!!"
Then she made this one:
And she followed up with this:
"You made my day yesterday; please take credit for this joy!
I found your pattern on Ravelry. Looking for a collar scarf that is unique took hours. Your delicious pattern appeared near the very end of my search. The minute I saw this freehand creative masterpiece, I erased all the other options and purchased your invention.
We are individuals and I am able to express my character through art. Thank you for helping me to further my goal and my bliss!
Nicky Epstein has a great book called, "Crocheting on the Edge."
Since I tend to lean on my knitting skills, many ideas have flooded my brain in regards to embellishing your design with crocheting.
Here's to the best therapy on the planet: CREATING!!
Always,
Kanani"
"Thank you for inspiring the love of our craft!"
I think that says it all! I am always grateful for my customers, but especially those who take the time to let me know their joy at creating something that I've
inspired! THAT is MA JOIE!!!!